An acrostic of the seven most influential AI-leading companies
Cramer named these "Magnificent Seven" stocks as ones to keep an eye on: Apple, Microsoft, Nvidia, Amazon, Meta, Tesla and Alphabet (Google).

CNBC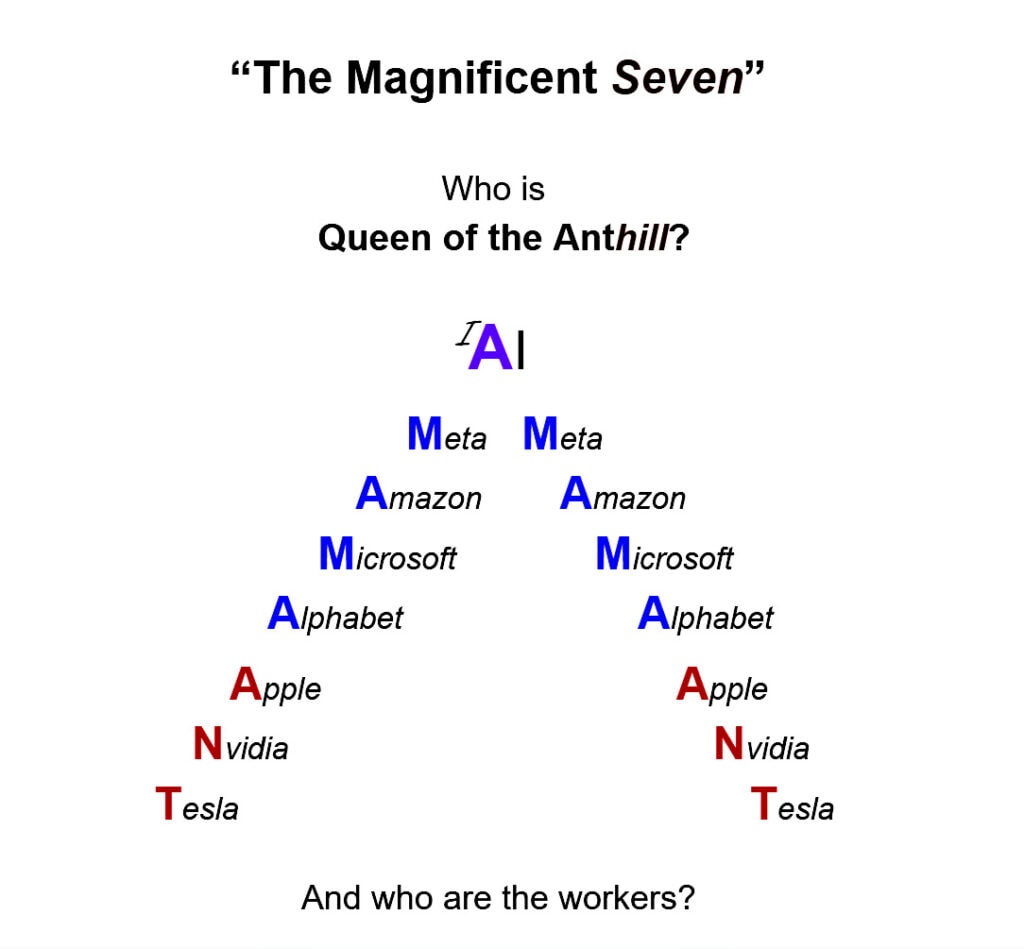 What I see coming
I see a large colony of AI students like ants preparing to give birth to their queen.
Already, companies are abuzz with preparing the way for their queen. The seven leading AI companies, nicknamed 'The Magnificent Seven,' have sparked a wave of prosperity for their investors, causing a sudden jump in the Nasdaq.
The analogy of an anthill is often used to warn others of the risk of AI.
If (AI) decides that it needs to go in a particular direction and we're in the way then it would without no hard feelings it would just roll over us. We would roll over an anthill that's in the way of a road. You don't hate ants. You're just building a road. It's a risk not a prediction.

Elon Musk (Tesla)
Musk states that he is not making a prediction.
But I have. (See Palindrome Prophecy About AI.)
AI, not your enemy — for now
At present, AI is not the enemy. I utilize it myself, as do you. It's a tool. But in time, like the golden calf, men will fall down and worship what their own hands have made. When that happens, watch out! God will reveal His righteous wrath upon it and all who bow down or takes its mark.
For a short time, it will stand, then sit, in the hearts and minds of men, the inner sanctum created for God alone.
Likely, it will prepare for itself a physical body to inhabit — an unholy incarnation — or some similar abomination.
But when threatened, she will turn on its own worshippers.
Even a queen ant will turn on its workers to preserve its life.
Queens will do whatever it takes to survive even if it leads to the downfall of their colony.

Amazing Facts About Queen Ants