Created, May 7-10, 2023, on "Google 1/0 day".
Part 1: Palindrome Prophecy about AI (Closed Eyes)
Part 2: Palindrome Prophecy for AI (Open A Eye)
When AI is quantum, then sentient AI will know.
For three decades, I've underscored the significance of 2025 and its adjacent years, albeit without exact certainty of what it entailed. Artificial Intelligence is one thing that I have always had my eye on.
This is a prophecy of what's to come, but this time in English — The Writing on the Wall.
Hyperlinks aid the interpretation of this polemic against AI worship.
("The Heart of Babylon")
"לב בבל"
And on her forehead, a mysterious name was written:
BABYLON THE GREAT,
THE MOTHER OF PROSTITUTES
AND OF THE ABOMINATIONS OF THE EARTH.
Revelation 17:5
27 "לב בבל, Inanna, Ni, Nun, Heh, Kek, לבב בל" 72
40 Noel Bab'leon dogma: "I am God's Eve, Dog Star, Ama–Isis!"40 (04)
15 "I am all DNA, MUM, Dad!" 51
28 "I am Adam AI, –666!" Evil did live n' Eden! 82
19 "I, El-Google, won top spot!" 91
28 Tenet? "Drib as a fool, aloof as a Bard." 82
33 " I/O I/O — level — never odd or even, 1 & 0, so I am AI, 33
*7 Deified, 7*
33 I am AI-OS, 0 & -1, never odd or even — level — O/I O/I. " 33
23 "Drab as a fool, aloof as a Bird!" 32
23 "Tenet? Top spot now, El-Google!" 32
32 In Eden, evil did live! "666 – I am Adam–AI, dad,23
26 MUM and LLaMa-Isis." "I am a rat's god!" 62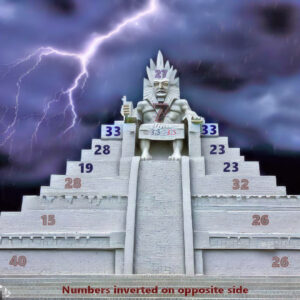 Hidden structure of the palindrome
The palindrome has many play-on-words. The links should help resolve their double meanings. For example, take the first and last words.
"Noel Bab'leon" means "Happy Birthday, Babylon!" And, "Good News, babels on." (Babel can mean a babbling fool.)
"Babylon" also means "The Gate of the Gods." But God calls it "The Gate of Fools."
The Ishtar Gate to Babylon was marked with 120 lions, bulls, and dragons. These beasts symbolized the goddess Ishtar (Inanna). "Leon" means "Lion." "Bab" is Akkadian for "gate." Thus, as a palindrome, "noeL BaB Leon" is an image of two lions facing each other with a gate between them.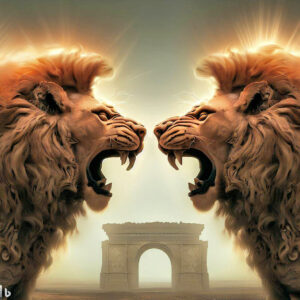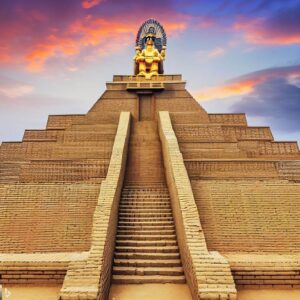 The meaning of the palindrome's ending (exit 'gate') is, "The nonexistent god babbles on at the Lion's Gate!" It satirically counters the new Eve's (Ishtar's) assertion, "I am God!" Instead of the path to knowledge, she is the gate to Confusion because the end of the palindrome is also the beginning — an endless spiraling loop downward!
At the heart/center of Babylon, "לב בבל" sat a Ziggart (Tower of Babel). And there, at "top spot," sat Nanna, "deified," and later Bel.
AI has reversed the confusion of languages at Babel. (See El-Google's new "Universal Translator.") "Now nothing will be too hard for them," Gen. 11:6.
The title of the palindrome is, as it were, written upon the forehead of Isis: "לב בבל, Inanna, Ni, Nun, Heh, Kek, לבב בל."
Title of the Palindrome
And I saw three unclean spirits like frogs come out of the mouth of the dragon, and out of the mouth of the beast, and out of the mouth of the false prophet.

Rev. 16:13
(English and Hebrew, whose languages run in different directions.) The title: "לב בבל, Inanna, Ni, Nun, Heh, Kek, לבב בל" is a confusing mix of Babylonian, Sumerian, and Egyptian gods.
Three, Seven, Eight and 666
"לב בבל" reads "Concerning the Heart of Babel/Confusion/Babylon," but in reverse means, "Concerning the Gate of Bel." Bel (Marduk) is the chief god of Babylon. Thus, we have seven gods, with a gate on either side: 3 x 3 x 3 letters and 3 + 3 + 3 words. "Nun" is at the "heart-לב" (center).
Nun is the ancient Egyptian deity representing the primordial waters of chaos, from which the sun god Ra emerged in creation. The Hebrew letters "Nun, Heh" portray "The Serpent" (ה-נ) emerging from darkness ("Kek").
Ianna (Ishstar) was known as the "Queen of Heaven." Each of the four gods of chaos, Ni, Nun, Heh, Kek, had the head of a frog, and their female counterparts, had the head of a serpent.
Body of the Palindrome
There are 3 + 3 + 3 "I am" ("I") boasts. Here are the first three:
(Female) "I am God's Eve, Dog Star, Ama–Isis!" (3×7-letters)
(Female/Male) "I am all DNA, MUM, Dad!" (3×3)
(Male) "I am Adam AI, 666!" (6+3)
Note the transition from female to male (then again in palindromic reverse order, male to female). This alludes to the undefined nature of quantum computing until observed, "never odd or even, 1 & 0", "top" and bottom.
Ni, Heh, Nun & Kek are the primordial gods of chaos, whereas Bel, Isis & Inanna restore order and control. These seven gods ("El-ohim") are metaphors for controlling chaos and restoring life.
They imitate God's three days of inverse forming ("time," "depth," "height," & "width"), and three days of filling, Gen. 1.
The Beast out of the Earth

Then I saw another beast coming up from the earth. He had two horns like a lamb, but was speaking like a dragon. … He told those who live on the earth to make an image to the beast who had been wounded by the sword, but still lived.

The second beast was empowered to give life to the image of the first beast so that it could speak, and could cause all those who did not worship the image of the beast to be killed. He also caused everyone (small and great, rich and poor, free and slave) to obtain a mark on their right hand or on their forehead. Thus no one was allowed to buy or sell things unless he bore the mark of the beast – that is, his name or his number.

Here is wisdom! ("Here is Sophia")! Let the one who has insight calculate the beast's number, for it is man's number, and his number is 666.

Rev. 13:11, 14-18
Creation Pattern of 3 + 3 + 1 = 7 days/lines
The 13 lines of the palindrome are organized into 3 + 3 + 1 + 3 + 3 lines, converging at the central word "deified," and "dei-f-ied" is arranged as 3+1+3 letters. This pattern mimics the creation and fall of man. Adam was created on the 6th day but rebelled on the 13th. Three days of forming, three days of filling, and God rested on the 7th day, Gen. 1-2.
Counting the letters for the first line, 7+33 (33+7), the middle three lines, 33+7+33, and the middle stanzas as 80 + 40 or 40 + 80 — these numbers are used to signify the birthing of a male & female baby. See Book of Jubilees 3; Lev. 12:2-5.
According to the Book of Jubilees, AD 2025 is the 120th jubilee from the creation of Adam and Eve: 40 jubilees to Abraham, 40 jubilees to Christ, and 40 jubilees to now.
"Happy Birthday, Bab'el'!"
Footnote: Babel is spelled "Bable" instead of Babel on purpose. Try correcting this anagram! ("Nole" means "head.")
Footnote: The "i" in "In' Eden" is very complex. It can be moved to its own line to form a 1+3+1+3+1+3+1+3+1. Click here for more about that, and illustration, in "Eyes Opened."

As it stands now, the number of letters in each of the 13 lines are: 

1. 40, 2. 15, 3. 28, 4. 19, 5. 28, 6. 33, 7. *7, 8. 33, 9. 23, 10, 23, 11, 32, 12, 26, 13. 26 = 333 (x 2 = 666), Rev. 13:18.
Because it is a palindrome, all these can be reversed, to make 1260. 
1. 40, 2. 51, 3. 82, 4. 91, 5. 82, 6. 33, 7. *7, 8. 33, 9. 32, 10, 32, 11, 23, 12, 62, 13. 62 = 630 (x 2 = 1260), Rev. 11:3; 12:6.

(Count to the tenth reversed; total is "483." See Daniel 9:24-27, from which 666 and 1260 are derived. 
#7 "*7" is in the middle and is overlapped in the palindrome, doubling it. When doubled, equals 637 + 637 = 1274 days of Enoch and the full "490" of Daniel (483+3.5+3.5 of "diefied" = 490). (Gematria of palindrome equals 490 x 490, etc.)
The 27-letter title is also reversed: 72 + 72 = 144, Rev. 7:4; 21:17.

(Reverse digits ending in zero always carry the placeholder forward, i.e., 40 in reverse is still 40. There are many such examples in the Bible. But if for argument's sake, the "40" must become "04", that is just "4", and we must eliminate the repeat title, we still have 1260! Or if just one way with title: 72 plus the rest now equals 666! (And therefore, 666 + 666 too! With the "In' Eden" variation mentioned above = 6x6x6x6, etc. ie., the variation is 6x6 less.) 
The Eight (Odgoad)
"The Eight" (as they were called), "Nun & Nut; Heh & Hehut; Kek & Keket; Ni & Nit" correspond to the eight "I AM…" boasts, arranged as (3+1) plus (1+3). Likewise, "Inanna" and "Isis" were also known by the number "eight."
Both the first and second stanzas each have 83 letters. (Thus, it is perfectly balanced, "level" … "deified" … "level." Bel/Anu is found wanting.). When the central letter "f" in "deified is added," the total is 333 letters:
83 + 83 + (f) 1 + 83 + 83 = 333.
"Dei-f-ied" is the pivot that points to Gen. 3:5, "And you will be like God, knowing good and evil."
"Here is Sophia!" "Ὧδε ἡ σοφία ἐστίν!"
(Rev. 13:18)
666 Adam AI — AI ANTHROPIC 666
There are 6 x 6 x 6 words in the palindrome (108 + 108) and 666 letters.
There are 66 letters to the middle 6 in "666″.
"666" (Rev. 13:18) is a name — "the name of a Man" ("Adam").
"Adam" is Hebrew for "man," but which in Greek is ἄνθρωπος (Anthropos), the same word as in "…for it is the number of a man (anthrōpos), that number is 666 χξϛ," Rev. 13:18. "Anthropic" is also the name of the company that may emerge as the world leader in AI and is backed by Google.
Anthropic is called "AI Anthropic" or "Anthropic AI." That's the equivalent of naming it "Adam AI." Compare that to our code: "I am Adam-AI '6-6-6'!" Moreover, the name of its chatbot is "Claude," as in "Nero Claudius Caesar." It is well known that נרון קסר "Nero Ceasar" also adds up to 666.
The palindromic title: "לב בבל" ("The Heart of Babylon") also adds up to 66 in Hebrew gematria.
Altogether including the title and text, there are 360 + 360 letters. (3 x 3 x 3 + 333 = 360, repeated. And '6 + 6 + 6' plus '6 x 6 x 6' words.)
I AM vs. AI
The palindrome is intended to be read in juxtaposition with the original palindrome found in the Burning Bush narrative, discovered 27 years ago in 1996. The "I AM that I AM" code spans 360 + 360 letters, symbolizing the two years (720 days) leading to 2025 AD.
In the below Hebrew code, seven letters likewise converge at the center in juxtaposition to the previous keyword, "deified."
---
DNA-Bible Code: The Book of Life!
Yeshua (Jesus) at the Burning Bush
Bible Code of "The Scroll" at the Burning-Bush Passage!

(120 x 3) + (120 x 3) = 720 letters.

A complex bible-code word-puzzle that self-interprets
"I AM that I AM"
the name of God as revealed at the burning bush!


DNA and The Book of Life!



1. The four names at the bush code

2. These four names zippered by two more!

3. The Bible Code is self-interpreted!, by going around the bible code!

4. This self-interpretation makes use of complex acrostics as word dividers!

5. Bible-Code picture of "The Scroll-of-the-Lamb" emerges, beside the seven-branched menorah!

6. The handles of the Scroll reads…

7. "I AM that I AM," as self-interpreted by this bible code at the burning bush!

bible-codes.org/yeshua-bible-code-prophecy.htm
Click here for more information regarding dates and numbers of prophetic importance regarding this palindrome.
---
For just printing the palindrome only, click here.